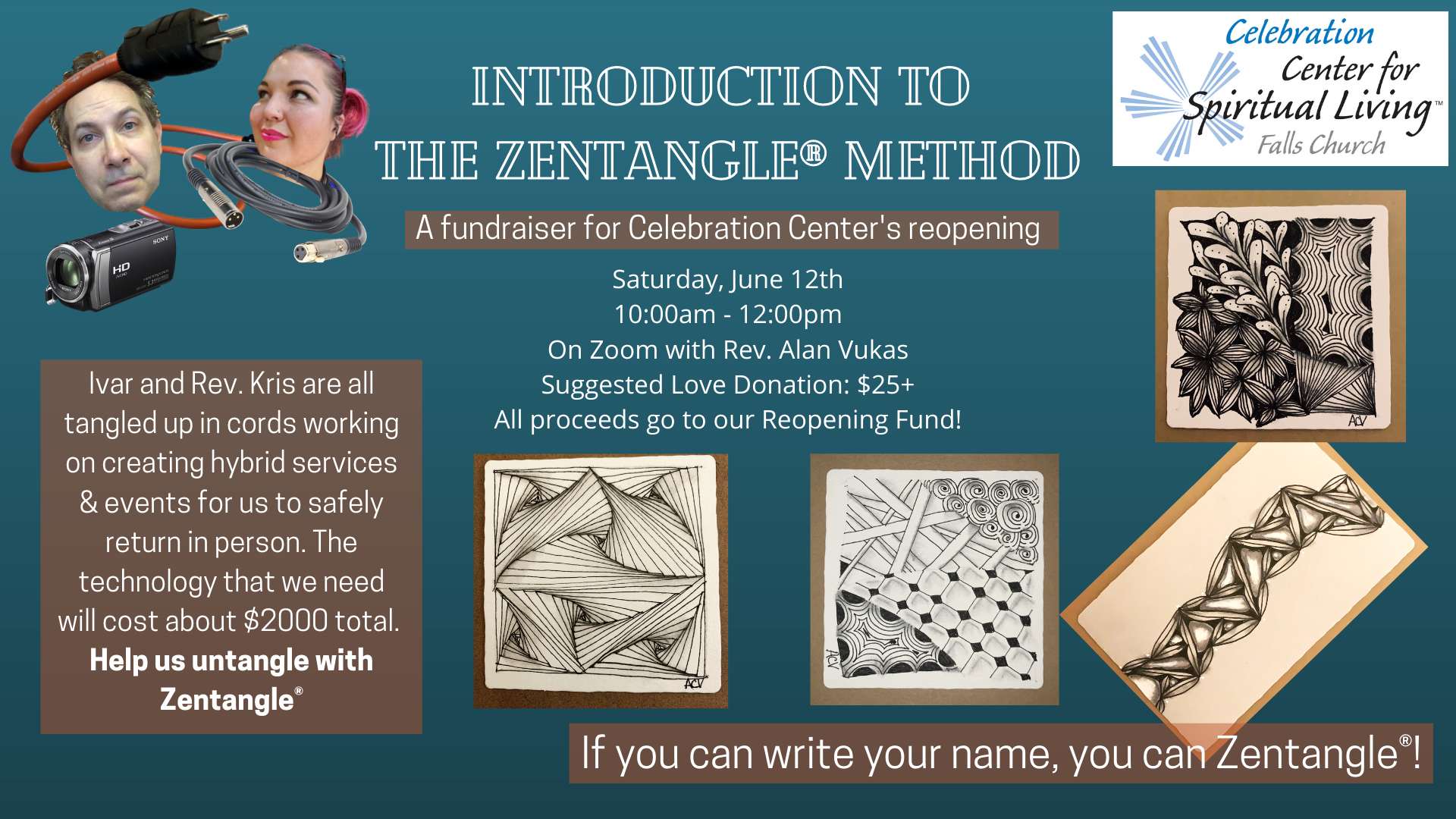 Introduction to the Zentangle® Method with Rev. Alan Vukas
A Reopening Fundraiser for Celebration Center for Spiritual Living
Saturday, June 12th, 10:00am – 12:00pm
To Register:
https://celebrationcenter.breezechms.com/form/ffb0af64
The Zentangle Method is an easy-to-learn, relaxing, and fun way to create beautiful images by
drawing structured patterns. In this fun, introductory class you will be immersed in learning
tangle patterns as you create actual Zentangle "tiles" and will leave the class with a clear
understanding that, "Anything is possible one stroke at a time."®
If you can write your name you can practice the Zentangle method. NO prior artistic or Zentangle
experience needed or required.
During this class together, you will learn:
History of the Zentangle method
The eight Steps of the Zentangle Method
How to draw some key "tangles" and techniques
How to use a graphite pencil to add shade to your
tile
And more…
Recommended Supplies:
1 Black Sakura Pigma Micron 01 or PN Pen
1 Graphite Pencil
1 Tortillion or blending stump
3-4 white square artist tiles (3.5″)
A blank sheet of scratch paper
Where Can I Find Supplies?
Amazon: Sakura #50110 Zentangle 12 Pc Set w/ 3.5 White Tiles″ (affiliate link*). Includes everything you will need for class. (Approximately $16)
Zentangle HQ: Zentangle Primer Pack Vol 1 – Beginner Zentangle Set ($44 – this also contains the book, Zentangle Primer Vol. 1. Highly recommended!)
You can also purchase these items at Michaels or another arts & crafts store.
If you are unable to find any of these, don't let that stop you in getting started… a black fine-point
pen, a pencil, and white paper will get the job done!